Dr Shailesh Keshav Mishra
---
Dr Shailesh Keshav Mishra
(M.S. Orthopedic, DNB Orthopedic)
Fellowship in Knee and shoulder Arthroscopy- Mumbai
Fellowship in Knee and Shoulder Arthroscopy and Joint
replacement (KNUH, Daegu, South Korea)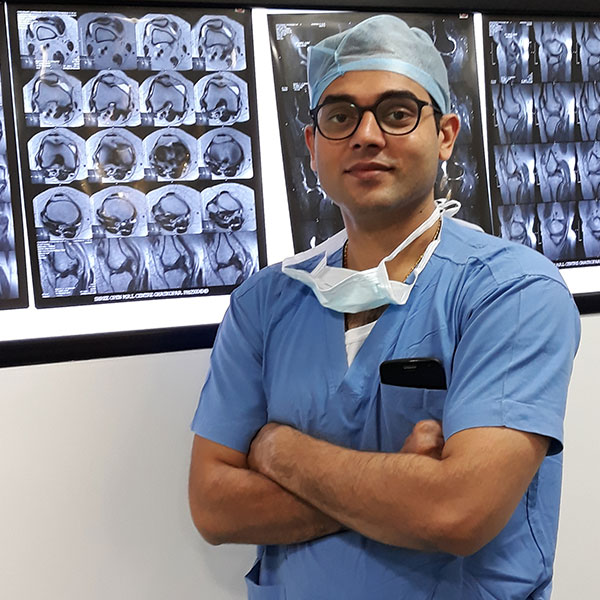 Consultant Orthopedic, Joint Replacement and Arthroscopy Surgeon
Consulting Locations
Criticare hospital, Juhu, Andheri west
Hinduhrudaysamrat Balasaheb thakare Trauma centre,
Jogeshwari east
BSES Bramhakumari Hospital, Andheri west
S.L. Raheja, Fortis, Mahim
Ramkrishna Mission Hospital, Khar West
Sanjeevani Hospital, Virar west (once in 15 days)
Unity Hospital, Surat (Once in 15 days)
Also I am operating at various places as Knee and Shoulder surgeon at various places in Mumbai eg Global hospital, Sujay.
Contact No. : 9920888216 / 9920888286
E Mail : drmishrashailesh@gmail.com
Language Skills : Proficient in English, Hindi , Marathi, Gujrathi
Professional Summary
Orthopedic Surgeon with specialization in sports injuries and joint replacement, Arthroscopic surgery. Accomplished medical professional adept at performing surgeries completing evaluations and developing successful treatment plans. Driven to communicate well and establish strong rapport with all patients.
Licences / Registration:
Medical Council of India
Maharashtra Medical Council
Diplomate of National Board
Teaching Experiance: 8.2 years
2 years in residency in BJ medical college, Pune
1 year during senior residency at KEM, Parel, Mumbai
2.2 yrs as Assistant Professor/Lecturer at MGM hospital, Kamothe, Navi Mumbai
Assistant Honoraray at Balasaheb Thakare Trauma Centre- 3 years
Skill Highlights:
Primary Total Knee Arthroplasty
Revision Total Knee Arthroplasty
Knee Arthroscopy- Meniscectomy, Meniscal repair, ACL, PCL,
Knee- MCL, LCL, MPFL reconstuction
Cartilage autologous transplantation
High tibial osteotomy
Tibial tubercle osteotomy
Total Hip Replacement
Shoulder Arthroscopy: Bankart repair, Acromioplasty, Lateral clavicular resection, Arthroscopic Rotator cuff repair, Labral repair
Lower Limb Alignment Osteotomies
Fractures around Knee, Hip and shoulder
Professional Experience
Working as Assistant Honorary at Hrudaysamrat Balasaheb Thakare Trauma Centre, Jogeshwari East, Mumbai
It is a 300 beded hospital located at the junction of western express highway and highway connecting to eastern express highway(JVLR), offering tertiary care to the orthopaedic patients. We are a team of qualified orthopaedic surgeons seeing around 180-200 patients/day in the OPD and operating around 60 cases in a month including all subspeciality of orthopaedic. We have world Class, Laminar flow Operative rooms where I routinely do Arthroscopy of Knee and Shoulder and Joint replacement surgeries of Knee. I manage of team of 6 doctors in this hospital.
Worked as Assistant professor, Department of Orthopedic, MGM Medical college & Hospital, Kamothe, Navi Mumbai ( September 2012 till 30th November 2014)
MGM is 500 beded hospital since 1989 located at the Pune express Highway with attached medical college. It has full fledged Orthopedic department with around 120-150 orthopedic surgeries happeneing in a month including trauma, joint replacement, arthroscopy and spine. Being the only arthroscopic surgeon in the team, I had opportunity to cater all the arthroscopic and ligament surgery work of hospital. Being the oldest hospital in the area and situated at the junction of seven major highways MGM is referral institute for many nearby districts, in addition to the local patient load.
Clinical Fellowship at Deenanath Mangeshkar Hospital, Pune with Dr Ashish Babhulkar, Shoulder Surgeon in June 2015
With Dr Ashish Babhulkar, I had opportunity to attend and participate in 15 to 18 surgeries per week and 200 patients in the OPD per week, which helped me to improve my skills further and clear my concepts.
Clinical Fellowship at "Kyungpook National University Hospital" in Daegu, South Korea as Clinical Fellow with Professor Hee-Soo Kyung in the department of Knee surgery (Arthroscopy and Arthroplasty) ( 5th June to 4th September 2012)
KNUH is 800 beded multispeciality university hospital ( Medical College) where around 70-80 knee surgeries performed in a month covering Arthroscopic ligament reconstruction, knee alignment procedure for OA of medial compartment, total knee replacement. I had opportunity to work two days in a week with shoulder surgeon who used to perform 35-40 procedures in a month of shoulder arthroscopy inclusive of subacromian decompression, rotator cuff surgery, surgeries for recurrent dislocation, shoulder replacement and Reverse Shoulder Arthroplasty
Clinical Fellowship with Dr Abhay Narvekar (1st April – 15th may 2012)
Dr Narvekar is eminent arthroscopic surgeon practicing in western Mumbai. He is operating around around 100 cases in a month of knee and shoulder arthroscopy
Registrar at Breach Candy hospital (January-March 2012)
I closely observed and Assisted Eminent Joint Replacement Surgeons of Mumbai Dr Rajesh Maniar and Dr Arun Mullaji
Linical associate at SEVENHILLS Hospital, Marol as a clinical associate with Dr V.J.Laheri, Dr Avinash Date, Dr Vinay Joshi ( September 2010 to November 2011)
I actively Participated in planning of Arthroscopy and joint replacement surgeries and Assisted. We had good footfall of overseas patients for joint replacements.
Senior Registrar in KEM (King Edword Memorial Hospital) Mumbai- ( August 2009 to july 2010 ) (Teaching post)
KEM is 2200 bedded multispeciality community hospital. It has 180 bedded full fledges orthopaedic department with 30 qualified orthopedic surgeon and 36 postgraduate students with around 250 surgeries performed in a month of all orthopaedic subspeciality with high quality care to the patient. KEM is referral quarternery care centre for many hospital in periphery of Mumbai and outside Mumbai, as well as different sates of India. I worked with Dr.S.S.Mohanty, a joint replacement surgeon,Associate professor at KEM( for six months) And with Dr.A.K.Rathod, a Spine surgeon, Associate Professor at KEM(for six months)
Resident Postgraduate student in Orthopaedic Surgery in B.J. Medical College & Sassoon General Hospitals , Pune (May2006 – April 2009) ( Teaching post )
B.J. Medical College & Sassoon General Hospitals is 1400 bedded multi specialty & teaching community hospital. It is recognized by Medical Council of India for post graduate teaching courses & degrees. I have had an opportunity to manage number of challenging trauma & emergency cases and elective surgeries during my residency posts.
Education
DNB Orthopedic -2010
Master of Surgery (M.S. Orthopedic) B.J.M.C Pune, Sassoon Hospital.-2009
Bachelor of Medicine and Bachelor of Surgery (MBBS) T.N.M.C. Mumbai, B.Y.L. Nair Hospital
Fellowships
Clinical Fellowship in Knee and Shoulder Surgery (South Korea)- 2012
Clinical Fellowship in Knee and Shoulder Arthroscopy (Mumbai)- 2012
Fellowship in Total Knee Arthroplasty in 2014 under Dr Manuj Wadhwa at Max Superspeciality Hospital Mohali
Research Work
Thesis : I have worked on a project titled "Study of treatment of Intertrochanteric Fracture femur with external fixator"in my residency
Chapter: written a chapter under the guidance of dr S.S.Mohanty on 'mangement of fracture in patients with hemophilia in a textbook name"Orthopedic management of patients with hemophilia in developing countries"
Confrence and Workshop attended
Western Indian Regional Orthopedic Conference 2007
Annual orthopaedic conference 2008(IOACON) organized by Indian orthopaedic association
Annual orthopaedic conference 2008(MOACON) organized by Maharashtra orthopaedic association
Western Indian Regional Orthopedic Conference 2009
Annual Research Society Conference 2007, 2008,2009 B.J. Medical College, Pune. India.
Basic and advanced fracture fixation courses organized by sancheti hospitals,pune,2006 and 2007
Workshop on locking compression plate organized by AO Synthes in pune,2008
Arhroscopy conference conducted at D.Y.Patil College,Pune, 2008
Various post graduate training programme organized in Pune, Mumbai and Miraj
ROC (Ranawat Orthopedic Conferance) , Pune 2011
Member of IAS
Attended International arthroscopy Congress 2013 in Mumbai
First Indo-US Arthroscopy Meeting at Trident in August 2014
Pune Knee Course 2015
Shoulder Conclave 2016
Shoulder Conclave 2017
Achievements
Rank 2 in 3
Final M.B.B.S. examination in Topiwala National Medical College, Mumbai.
Distinction in S.S.C. & H.S.C.
Cleared M.S.Orthopedic and DNB Orthopedic in first attempt.
Memberships:
Life Member - Indian Orthopedic Society
Life Member - Indian Arthroscopy Society
Life Member - Bombay Orthopedic Society