Arthroscopic Shoulder Surgeries
---
Injuries to the shoulder joints are very common when it comes to contact sports. Apart from that, if you face a car accident then you might come face to face with a shoulder joint dislocation or a ligament tear. Such problems can be treated with the help of arthroscopic shoulder surgeries and our clinic has some of the best infrastructure for the surgery.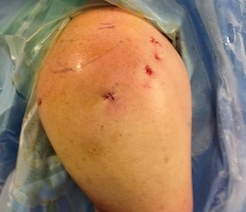 When Do You Need To Undergo an Arthroscopic Shoulder Surgery?
A shoulder joint injury does not necessarily mean that a surgery is your only resort. There are several non-surgical treatment as well. These include physical therapies, injections and medications. When your doctor diagnoses your condition and feels that the condition is severe enough for a non-surgical treatment, then you can opt for an arthroscopic shoulder surgery. Most of the shoulder injuries result from injuries or a problem from overuse of the shoulder joint. There might also be wear and tear in the joint due to age. Whatever the cause of the problem is, a shoulder joint ligament tear or dislocation is extremely painful and might even show inflammation. Some of the common types of arthroscopic shoulder surgeries that are performed at our clinic are:
Arthroscopic Bankart repair
Arthroscopic Remplissage
Arthroscopic Single row rotator cuff repair
Arthroscopic Double row rotator cuff repair
Arthroscopic Biceps tenodesis
Arthroscopic Acromioplasty
Arthroscopic SLAP repair
How Should You Prepare For an Arthroscopic Shoulder Surgery?
When you visit our clinic, the doctors will first assess you to find out whether you have any medical problem that needs special attention before the surgery.
A chest x-ray, ECG and blood test have to be done before the surgery.
If you happen to take any medical supplements on a daily basis, then you might let your surgeon know about it beforehand. Sometime, it happens that supplements have to be stopped before the surgery but this depends on the composition of the supplements.
What is the Procedure of Arthroscopic Shoulder Surgery?
At first, you will be administered with a dosage of anesthesia.
Then, normal saline is injected in the region of the shoulder. This inflates the shoulder and helps the doctor to see the structures properly.
Then an incision is made through which the arthroscope is inserted and the images conjured by it are shown on a screen that is kept in the room.
When the surgeons have determined your exact problems, then instruments are inserted into the region through other incisions and the problem is solved.
Once the surgery is completed, the incisions are sutured.
What are the Advantages of Arthroscopic Shoulder Surgery?
The arthroscopic method of shoulder surgery gives minimum amount of scars which are least visible and fades away with time.
Short hospital stay
The surgery ensures that you get a quicker recovery.
The complications associated with the surgery are very limited.
So, if you have had a shoulder injury, book an appointment with us today and get yourself treated under the supervision of the best doctors.