Shoulder Arthritis
---
Shoulders are considered to be one of the most mobile joints of the human body and arthritis in the shoulder joint can be quite lethal. When arthritis results in the joints, they have a tendency to become unstable and generate a lot of pain.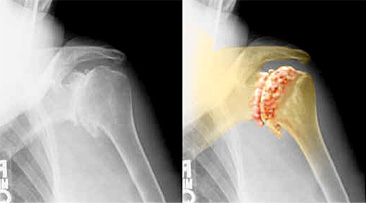 What are the Types of Shoulder Arthritis?
The shoulder joint does not face only one type of arthritis but more than one and they are listed below:
Rheumatoid Arthritis – Rheumatoid arthritis is very common in the shoulder and it is a case of autoimmune disorder. Both your shoulder will pain simultaneously in case you are suffering from rheumatoid arthritis. A pain in the joints and tenderness is quite common. Since the joint lining is affected, a swelling in the joint region might result as well.
Osteoarthritis – Osteoarthritis is one of the classic forms of arthritis. People who are of an older age usually develop this disease and it occurs in many other parts apart from the hip.
Posttraumatic Arthritis – Posttraumatic Arthritis is a type of arthritis in which your pain and swelling results after you have met with an accident. The shoulders usually undergo in a dislocation when you fall and this results in posttraumatic arthritis.
Avascular Necrosis – Avascular necrosis or AVN is lethal and can also lead to joint tissue destruction. Bone fractures are some of the accidents that result in avascular necrosis.
Rotator Cuff Tear Arthropathy – The top of your arm is connected to your shoulder blade with the help of the rotator cuff muscles. Whenever you encounter an accident always cover yourself up. An intense pain is felt along with the inability of the muscles to do work.
What are the Symptoms of Shoulder Arthritis?
The common symptoms associated with shoulder arthritis are;
When the bone affected is your glenohumeral part, then the pain is usually felt in the back portion of your shoulder.
The pain is felt as if it is coming from some deep region beneath your skin.
The motion of your shoulders is limited. Simple tasks become next to impossible. People cannot even comb their hair properly when they are diagnosed with shoulder arthritis.
What are the Treatment Measures for Shoulder Arthritis?
The several treatment measures for shoulder arthritis are listed below:
Non-surgical modes of treatment are done at first. You will be asked to take enough rest.
Physical therapy is very important is you plan to get back to doing your normal activities.
Corticosteroids help a lot in easing down the pain.
The inflammation of the region can be suppressed by the non-steroidal anti-inflammatory medicines.
Arthroscopy or the shoulder joint replacement is recommended depending upon the severity of the degenerative changes.
Resection arthroplasty is also one of the measures but it should be done only when other measures have failed.
When you face symptoms of shoulder pain, you should contact your doctor at once and our doctors will prescribe you a treatment after proper diagnosis.