Reverse Shoulder Replacement
---
If you have been suffering from the condition which is commonly called the cuff tear arthropathy, then a total shoulder replacement might not be a good choice for you. In this type of condition, the patients have large rotator cuff tears and if you opt for a total shoulder replacement then you will have to endure a lot of pain.
What is a Reverse Shoulder Replacement?
In a normal (Anatomic) total shoulder replacement, the device that is implanted onto the joint mimics the usual structural descriptions of a shoulder joint. There is a plastic cup like structure that stays fitted into the glenoid cavity and also a metal ball. This is attached to the head of the humerus. But in case of reverse shoulder replacement, the position of the plastic cup and metal ball are switched, that is, the metal ball is placed in the glenoid cavity while the plastic cup at the head of the humerus.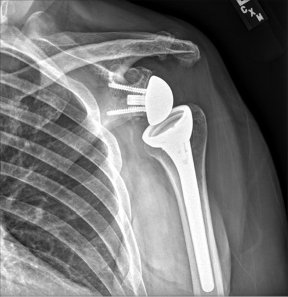 Who Are the Candidates for a Reverse Shoulder Replacement?
If you are not sure whether reverse shoulder replacement is the surgery that you should undergo, then given below are some of the situations, when this surgery is required:
Cuff tear arthropathy
When the rotator cuff has completely torn and is beyond repair
You have undergone a complex fracture in your shoulder joint
If your previous shoulder replacement operation had been unsuccessful
A shoulder dislocation that is quite severe
Severe pain in your shoulder and facing difficulty in lifting weights or simply putting your arm above your head
If you have tumour in your shoulder joint
You should also ask your doctor whether there are other modes of treatment for your condition. You should go for a reverse shoulder replacement when you have tried other modes of treatment like medications, therapy or cortisone injections and all of them have failed.
How Should You Prepare For Your Reverse Shoulder Replacement?
Firstly, you must undergo a full evaluation of your body, so that the doctor can be sure whether you are completely fit to undergo the surgery,
Let your orthopaedic surgeon know about all the medications that you take on a daily basis. This is because there are certain medications which cannot be continued if you have an upcoming surgery. Some of the common examples of medicines that should be stopped are anti-inflammatory and non-steroidal ones. Some of the arthritis medications also need to be stopped at times.
Home Planning
Making simple changes in your home before surgery can make your recovery period easier. For the first several weeks after your surgery, it will be hard to reach high shelves and cupboards. Before your surgery, be sure to go through your home and place any items you may need afterwards on low shelves. When you come home from the hospital, you will need help for a few weeks with some daily tasks like dressing, bathing, cooking, and laundry.
What is the Procedure of Reverse Shoulder Replacement?
At first, the anesthetist will give you anesthesia to ensure you do not feel any discomfort.
Then either the top or front portion of the shoulder is marked and an incision is done in these regions.
Then the damaged portions of the bones are removed to replace them with new parts.
Once the parts are attached in position, the incision will be sutured up.
After your surgery is completed, the doctor will evaluate you and then antibiotics are prescribed to ensure there are no infections in any part of the body. You may also be addressed to undergo physical therapy.
Rehabilitation
When you leave the hospital, your arm will be in a sling. Your surgeon may instruct you to do gentle range of motion exercises to increase your mobility and endurance. A formal physical therapy program may also be recommended to strengthen your shoulder and improve flexibility.
You should be able to eat, dress, and groom yourself within a few weeks after surgery.